Prof. Vili Beroš, Croatian Minister of Health on addressing cancer injustice in CEE (Opening Speech)
F
ollowing our slogan of healthcare reform HEALTH FIRST, we thank all stakeholders for continuously following our activities in our efforts to provide effective, accessible and modern healthcare to the citizens of the Republic of Croatia, today and beyond.
By co-organizing this important High Level Policy Forum on the topic of injustice and inequality in oncology care for the countries of Central and Eastern Europe, we want to send a strong message of unity and a Europe that grows, connects, gathers, protects its citizens, a Europe that is assertive and open to the neighborhood and globally.
These postulates were the fundamental pillars of the historically first Croatian Presidency of the European Union, and that is why this conference is being organized today in the same place where, in the not-so-ideal conditions of the pandemic, concrete European action to fight cancer started!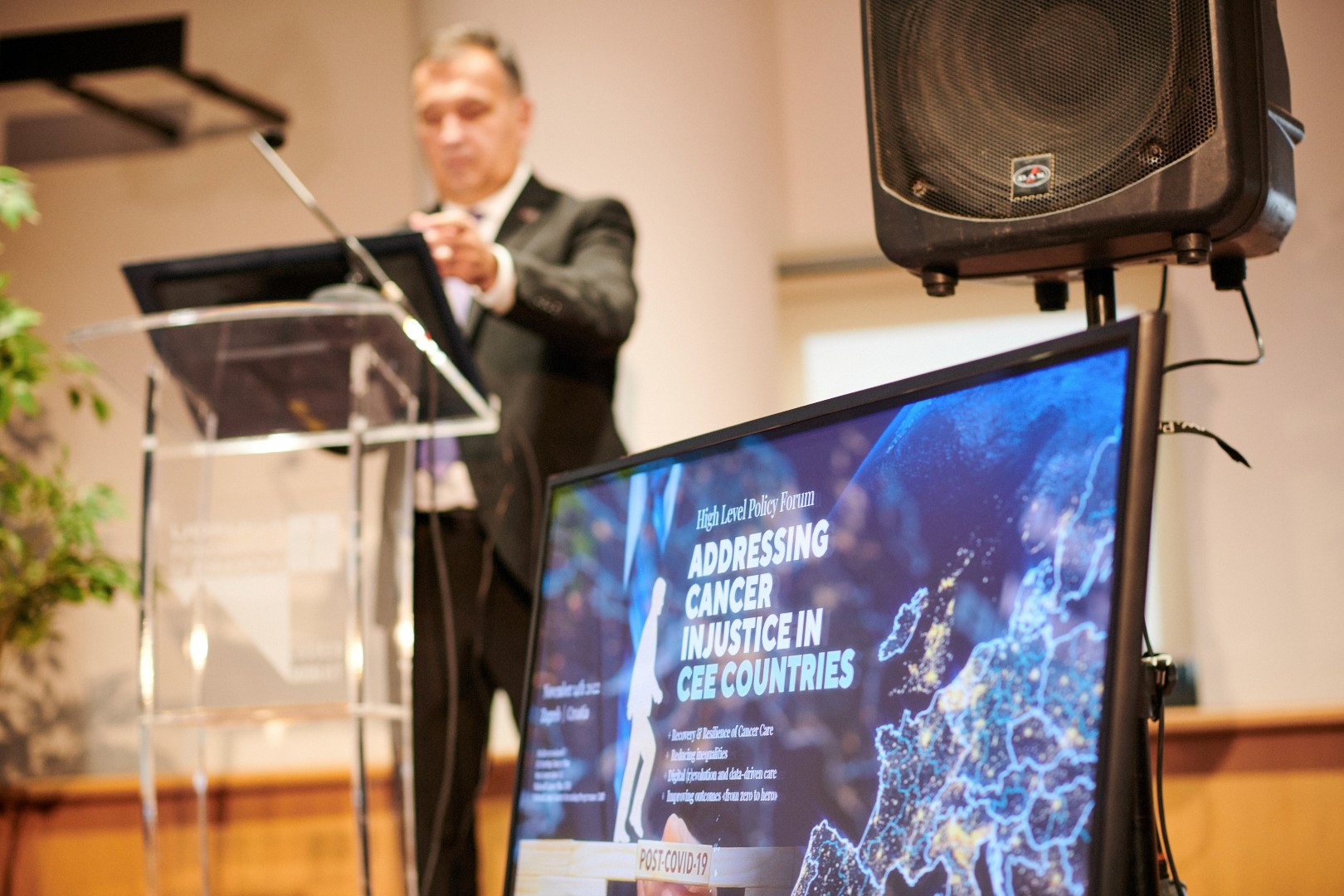 Let's remember that the year 2020, apart from the global crisis caused by the coronavirus, will still remain historically recorded in health diplomacy as a year of important political breakthroughs in the interest of the improved care for cancer patients!
In anticipation of Croatian historic presidency of the Council of the European Union, we listened to the voices of Croatian and European citizens and included oncology care on the health agenda of our Presidency, taking into account the political prioritization of cancer despite the coronavirus pandemic, and at the same time we intensified our national activities by the end of 2020 in completing National Strategic Framework Against Cancer (Croatian Cancer Plan)!
We have not forgotten our oncology patients, we have left a lasting mark for their healthier future with the European and Croatian plan to fight against malignant diseases! Our Ministry of Health very actively promoted the importance of oncology topics and supported the European Beating Cancer Plan through its participation in numerous initiatives, from the first public address of the EU Commissioner for Health, to health policy dialogues at numerous ministerial conferences. We hosted numerous European health delegations and patient associations, who spoke about the need for equal access to oncology care for all European citizens, regardless of where they live!
The message about the importance of addressing inequality in oncology care, which was endorsed by our Ministry, the Government and our MEPs, is today an integral part of the bigger European vision and all action and implementation plans that aim to turn cancer into a curable or chronic disease that does not take precious human lives unnecessarily, especially when it is taken into account that almost 50% of cancer can be prevented by proper lifestyle habits.
Taking into account that Croatia is an unrecognized global cradle of health literacy and that we have a strong legacy of prof. Andrija Štampar, one of the founding fathers of the World Health Organization, conferences like this are an opportunity to show the light at the end of the tunnel through joint international dialogue for countries that do not have equal access and opportunities for diagnosis and treatment, and have poor outcomes.
Despite all the challenges, we have launched one of the globally most modern cancer plans based on data and outcomes, at the EU level we were the first to launch a national program for the early screening and detection of lung cancer, which we have been implementing for almost two years despite the earthquakes and the pandemic, we implemented eMedical Record as an added value for improved care for oncology (and other) patients…
We are strengthening prevention, with reform measures and preventive health examinations we will fight against non-communicable chronic diseases, including cancer. And we are doing this activities aligned  with European Union, which presented Healthier Together initiative to fight non-communicable chronic diseases and EU Beating Cancer Plan.
As we highlighted during the presentation of the Croatian healthcare reform, I want to convey a loud message and a call to action to all those who can contribute to a healthier tomorrow –
it is important to bring stakeholders together, not to cause divisions,
it is important to inspire and learn from the best so that we all progress equally,
it is important to use the potential of the European vision and the European family in order to have a healthier future for the EU,
it is important to invest in health education in order to have citizens who respond to call for preventive examinations and save their lives in time,
it is important, in the spirit of technological development, to integrate digital solutions on time and use data in a smart way in the interest of the best possible treatment outcomes,
it is important to present the problems every EU Member State is facing (in terms of poor health statistics), but also to offer constructive solutions for them.
And that is why we are here today, and we are proud to be a regional leader in this kind of health politicy narrative, with numerous respectful partners, from the European Commission and the Parliament, to numerous civil society associations and oncology patients, so that we too can give our support to the mission of a healthy, real , a strong and digital Europe where citizens do not die of cancer.